Brides of March
08 Monday Feb 2016
The Annual Brides of March in San Francisco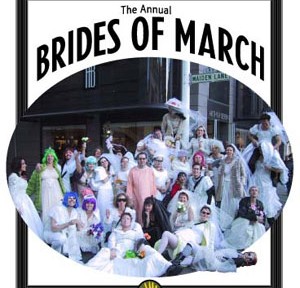 Near March 15th every year. In San Francisco & other cities. Check your local Facebook group.
History of a Cacophony Classic
Michele Michele got the idea for this annual gathering at a San Francisco thrift store in 1999. "I saw a rack of used wedding dresses and realized how often the dream of an ideal marriage had failed and how so much of this dream has been fabricated in order to fuel the ever-increasing consumption of new products. I thought it would be funny to take the primary symbol of this sacred institution and twist it around, much like what the Cacophony Society did with the Santa Rampage. This is classic Situationist 'Detournament', the hijacking of a message."
Brides of March
Grab a wedding dress and join the Brides as we parade through the heart of San Francisco, strolling through Union Square, shopping at fancy stores and drinking in local bars. All you need for this event is a white wedding dress, the more elaborate, the better. Check your local thrift store for suitable attire.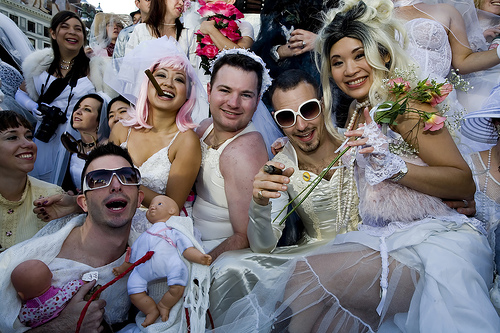 WEAR A DRESS! Please. Its the Brides of March, not the Grooms of March. If you are a photographer, WEAR A DRESS. Please. We're tired of you stealing our Juju without participating. The best PARKING is the nearby Sutter-Stockton Garage, with entrances on the 400 block of Stockton northbound and on the 500 block of Bush eastbound.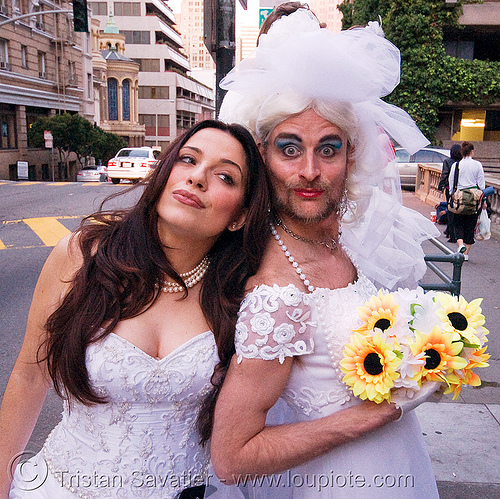 We'll have a few rounds of drinks at the bars and wait for late arrivals. By 3:30 PM we'll be suitably liquored up for a stroll around town, with stops at our favorite Formal Wear store, and diamond importer. From there, we'll continue on Grant and turn onto Maiden Lane, Stopping for a photo op at the gates of Maiden Lane. Then we'll race across the street to Union Square and gather around our edifice of desire, the monolith of John Dong Long. From there, we'll proceed across the street to an exclusive department store for a fresh application of lipstick and makeup from the counter samples.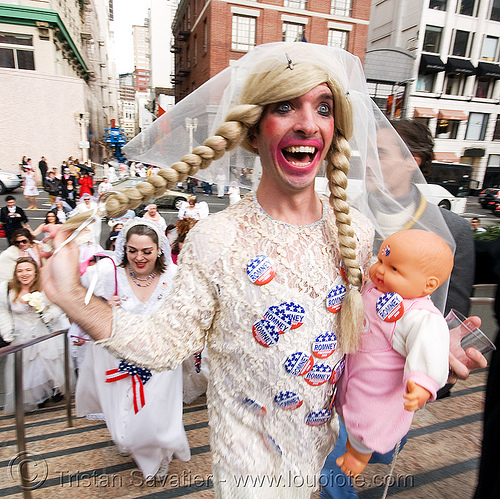 How to hack your wedding dress:
http://www.bridesofmarch.org/Brides/DressHacks.html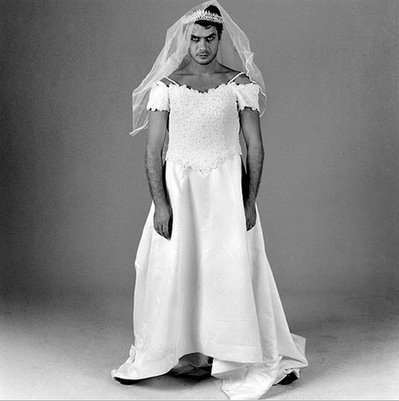 Brides of March- 10th Anniversary video:
http://www.savadelis.com/movies/bridesofmarch.mov