The Black Rock Saloon
03 Monday Aug 2015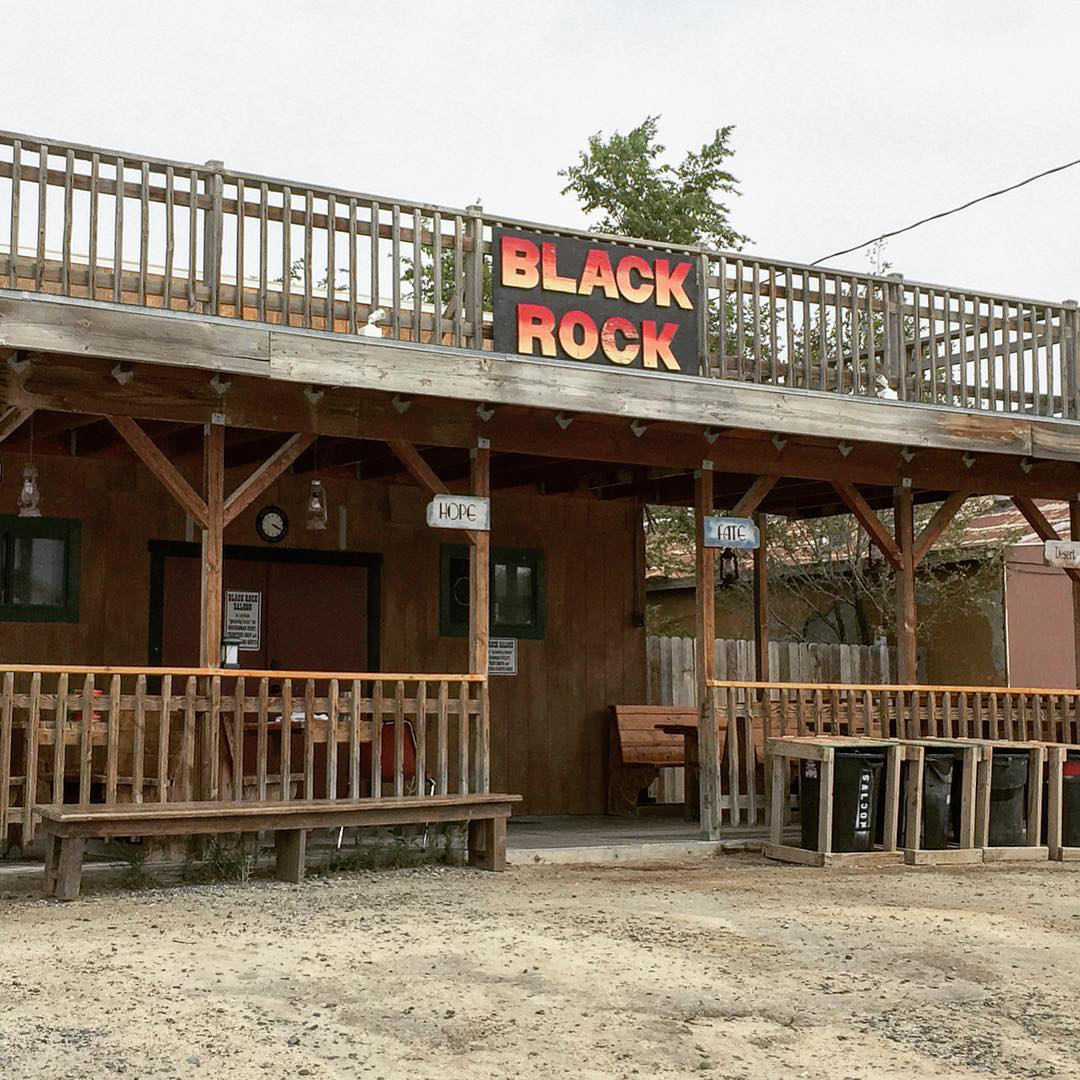 The Black Rock Saloon is Burning Man's private social club in Gerlach.

There's lots of interesting decor inside the Saloon. Photographs of DPW staff members hang on the walls. Several of the original signs that once stood at the highway-to-playa entrance, are reminders of Burning Man themes from years past.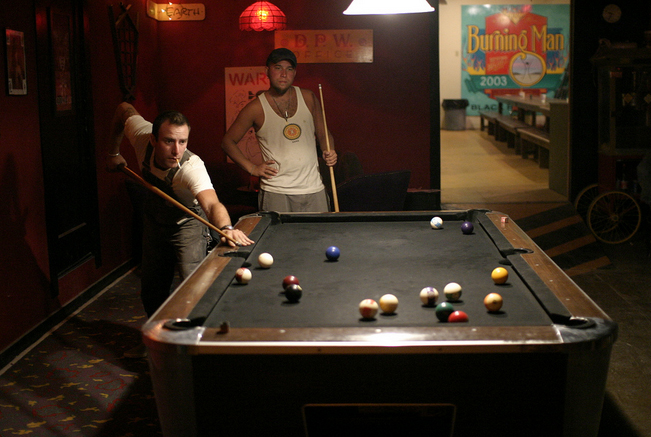 There is a reverence to some of the altar-like pieces scattered about.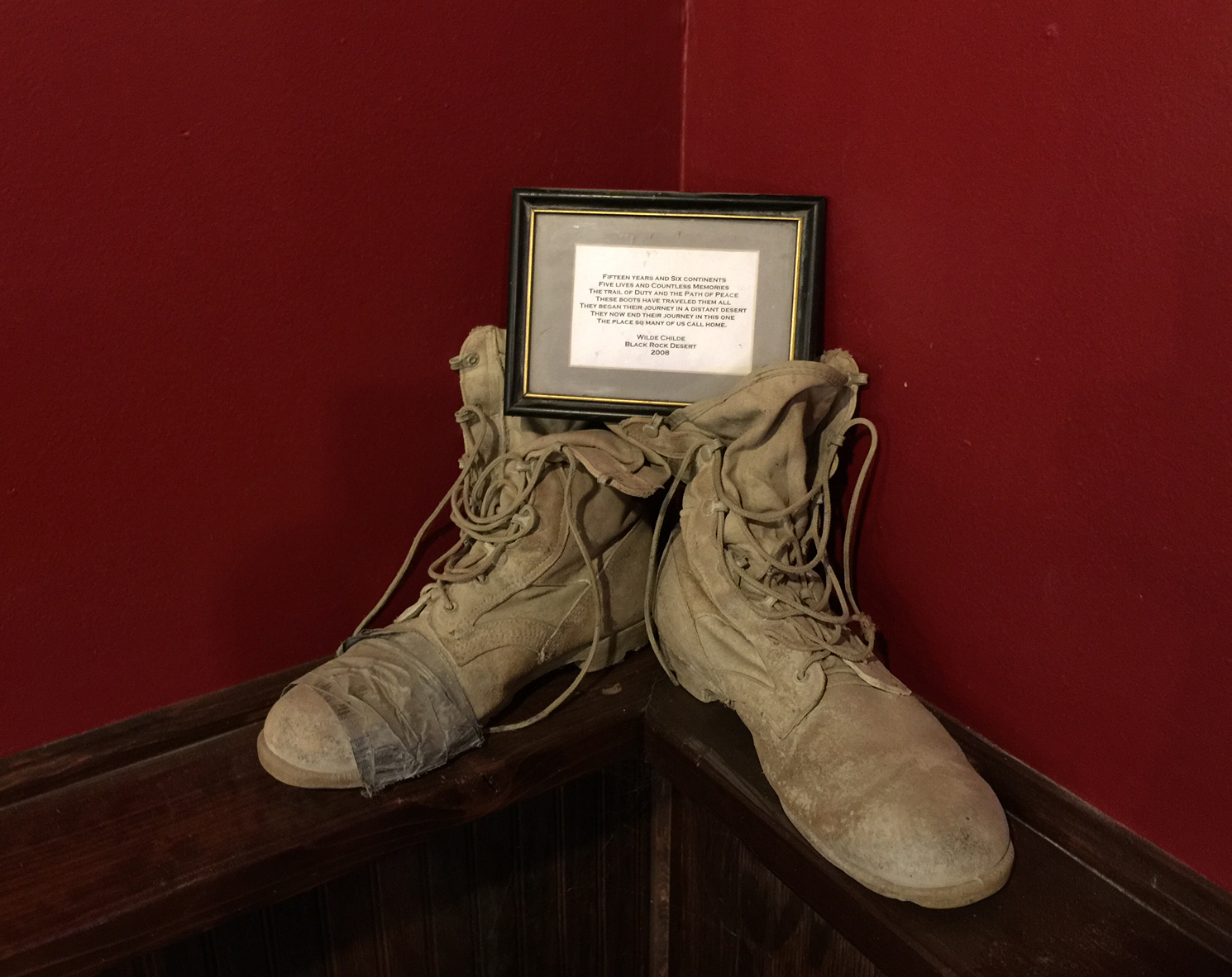 "Fifteen years and six continents
Five lives and countless memories
The trail of duty and the path of peace
These boots have traveled them all
They began their journey in a distant desert
They now end their journey in this one-
The place so many of us call home"
And there is a certain style of humor that burners appreciate.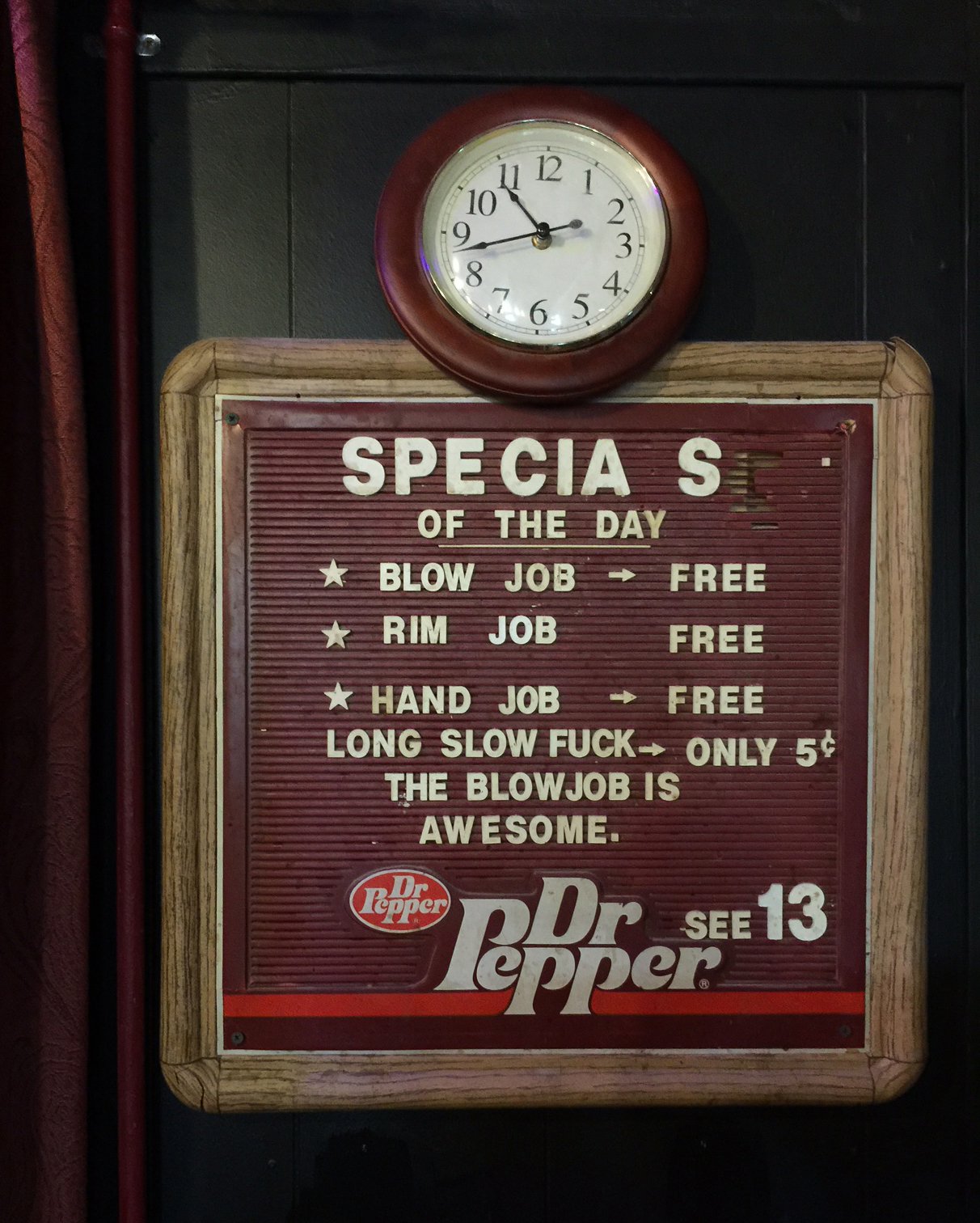 The original building was constructed in the 1940s and has served as a bar/restaurant for most of its life. When Burning Man first arrived in 1990, it was called Norm's Cabaret.
Sometime around 2001, a porch was added to the front and the name was changed to Black Rock Saloon when it was acquired by Joan Grant, who also owned a ranch in the nearby Hualapai Valley.
In 2004, Burning Man acquired the Black Rock Saloon for use by it's staff and volunteers.
There is a lot of history in this bar. During the 1940s & 50s, rodeos were held in a large corral south of Gerlach, and it was one of the 6 or 7 bars in town that was popular with the cowboys. There is a story, that on more than one occasion, a drunken cowboy would ride his horse thru the front doors and up to the bar and demand another round. In the 1990s, the local justice-of-the-peace, known as "Judge Phil" would stumble into the bar carrying his loaded AR-15. During the early 2000s, the Black Rock Saloon became a favorite hangout for burners passing thru town. After Burning Man acquired the bar, the post-event donations from participants insured a good supply of free drinks and food for the clean-up crew after working on-playa all day. It became a custom for DPW members to carve their playa radio names into the long bar during an evening of drinking. Over the last decade, this bar top has acquired a luxurious patina with hundreds of names carved into it.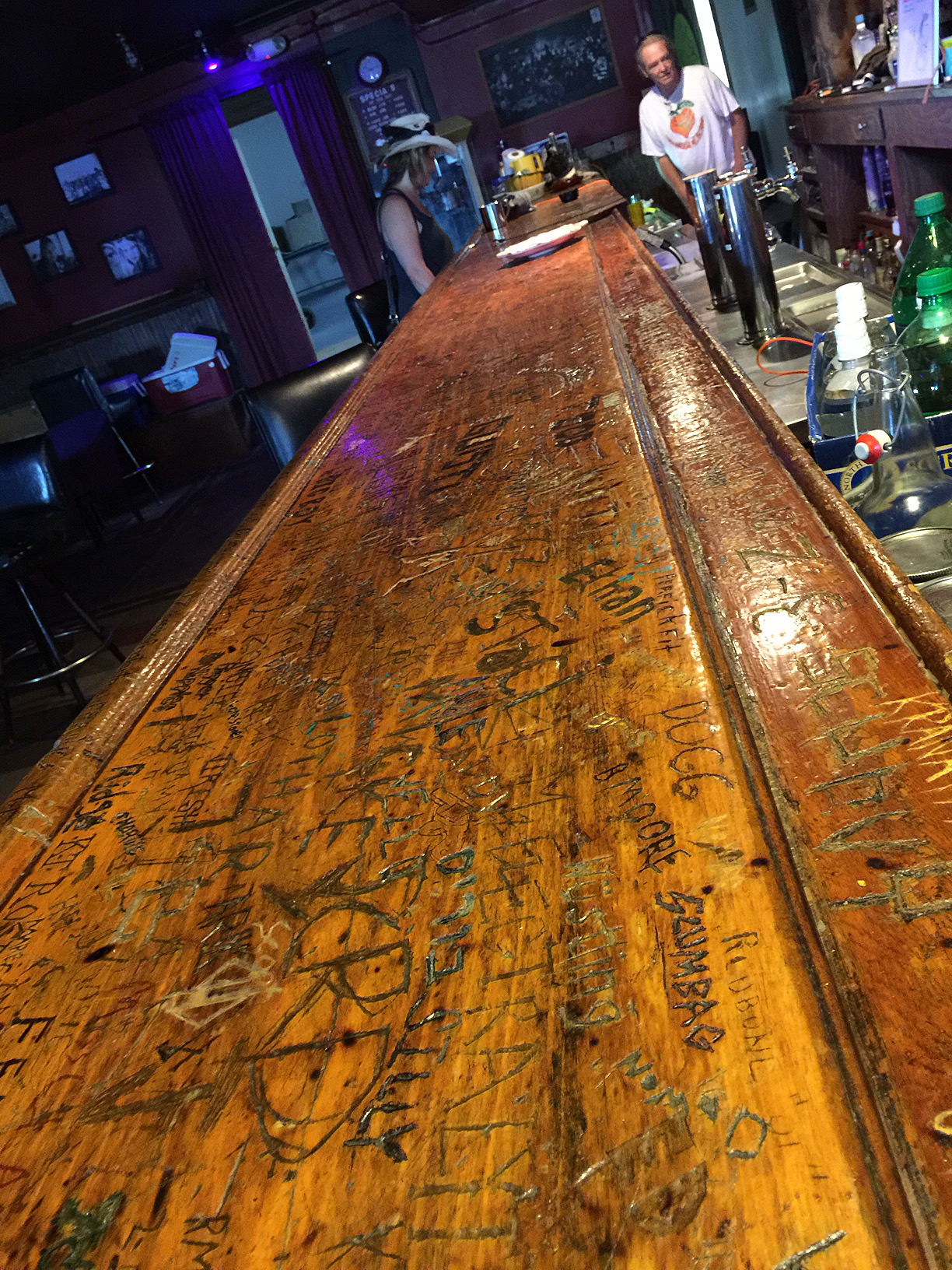 Here are a few:
AfterFive
Alabama
Alipato
AuntieSocial
Austintatious
BallyHooBetty
Barbarella
Beany
Bewitched
BlackThorne
BloodyKnuckles
BobTuse
BolognaHole
Boo
Booyah
BuzzKill
CobraComandante
CowboyCarl
Coyote
CrazyTalk
CustomerService
DagoBay
DarkAngel DA
DeadPan
Detour
DirtyBacon
DrunkenNurse
DumpsterCoon
EasyGoin
FeralKidd
FlufferNips
Flynn
FreeBeer
Fuckin'Andy
Gameshow
Goatt
Hazmatt
HighCenter
Hormel
InSane
JeneRator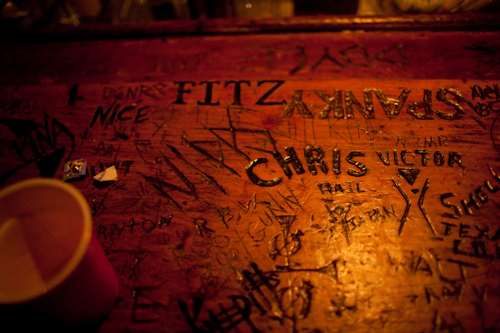 JetFuel
JustGeorge
Kamikaze
LoDog
LowRent
MakeOutQueen
MissHandler
MissMilitia
MissRoach
MrBlue
MrMetric
MrNightshade
NicoPeachez
OhMyGawd
PheonixFirestarter
Phixx
PillowTalk
Playground
PornStar
QuietEarp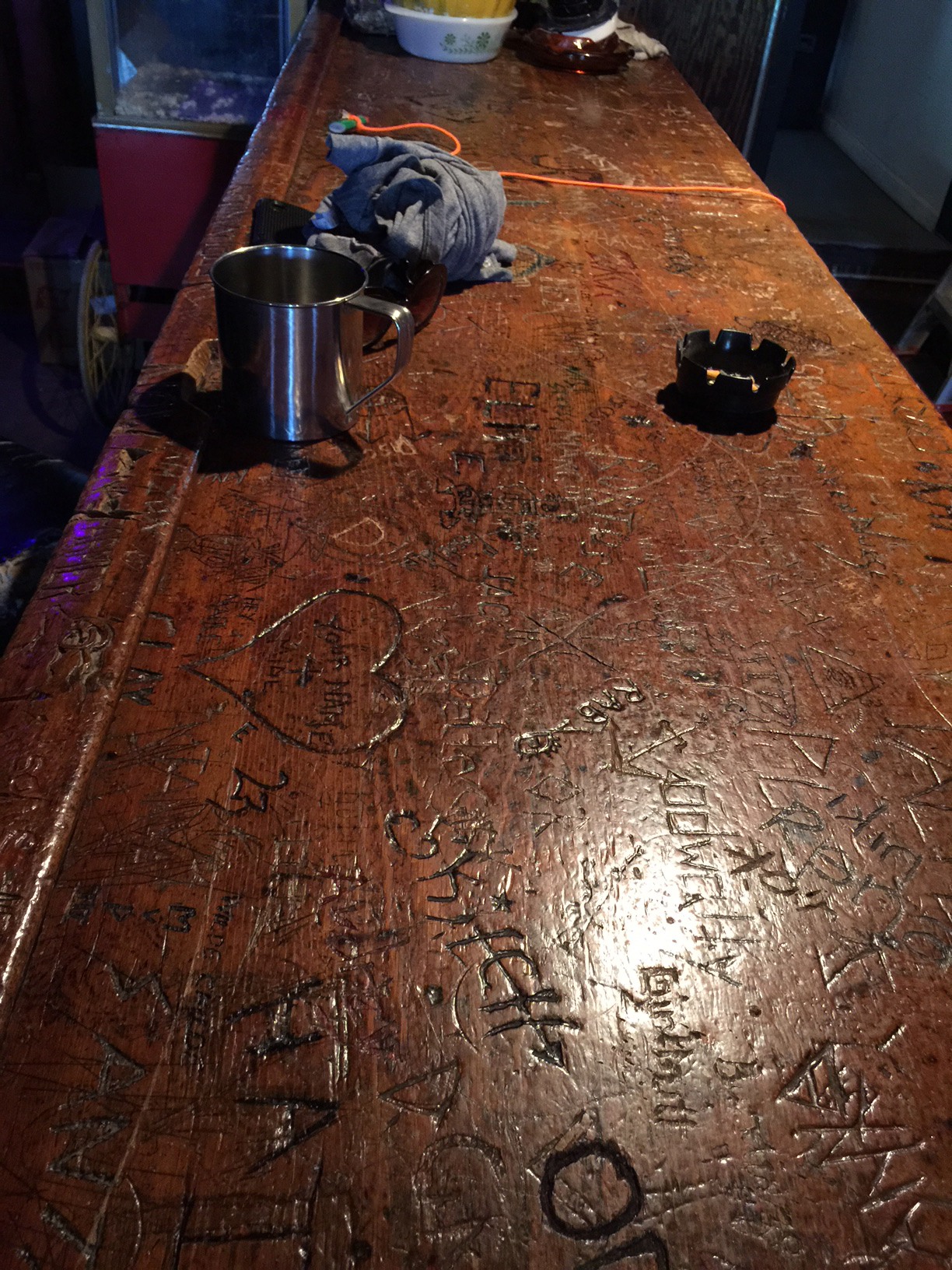 Reposado
RestStopBuddy
RhodaHell
RideThatPony
RugBurn
Sailor
SansaAsylum
SF-Slim
SgtSlaughter
Shooter
ShotGunn
Skitch
SleepDep
Smokes
Spoono
Stabby
TheHun
Thirteen
TrailerParkRomeo
TrainWreck
Truffels
VaVoom
WeldBoy
WheelGunner
WildeChilde
WingMan
WitchDoctor
WonderDog
Zombie
Along with these names are a few quotes that hint at historical events or express ideas that reflect the character of DPW.
Frankly, we don't give a damn about your camp.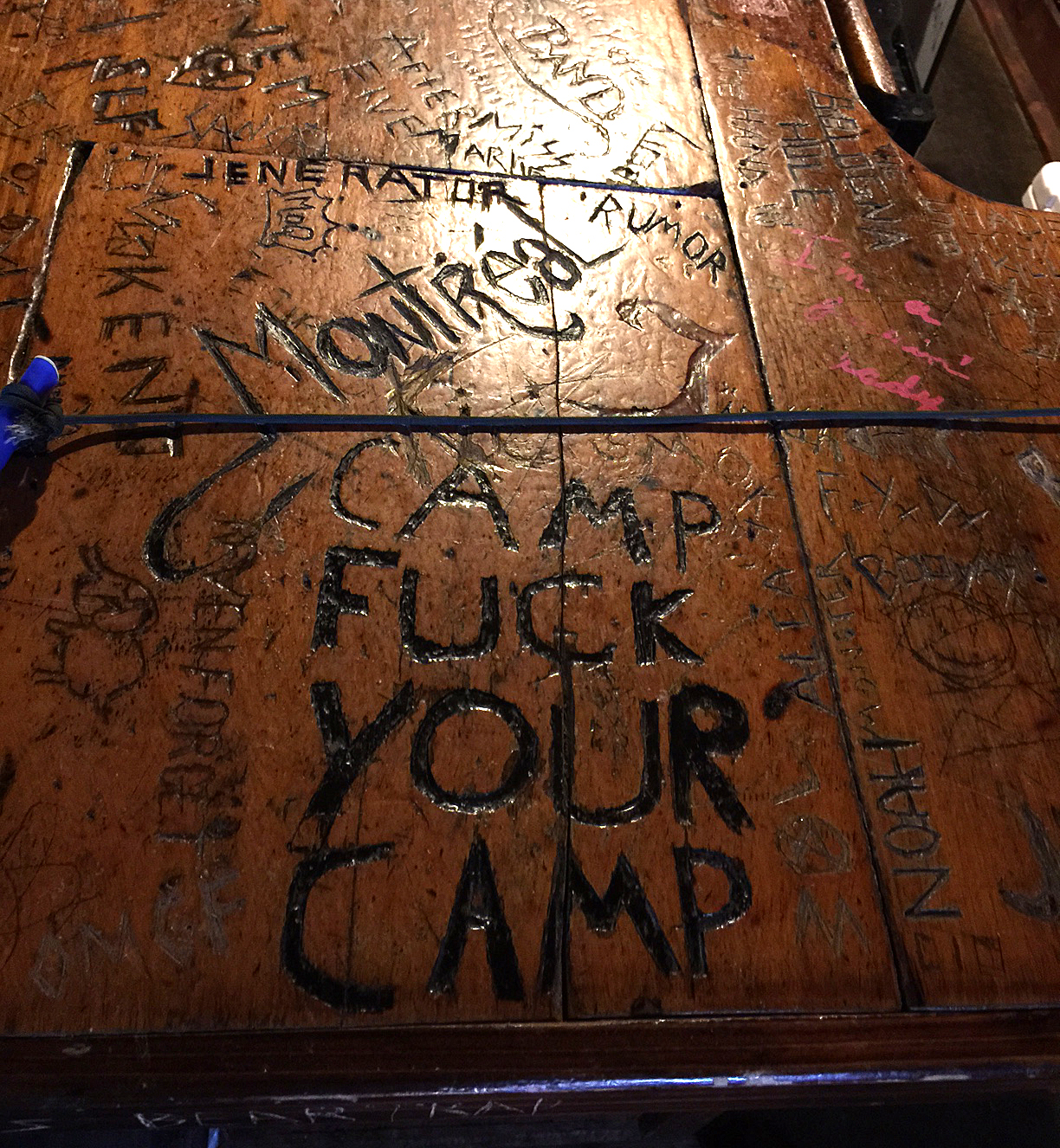 Then there is the legendary "Who Shot Flash?"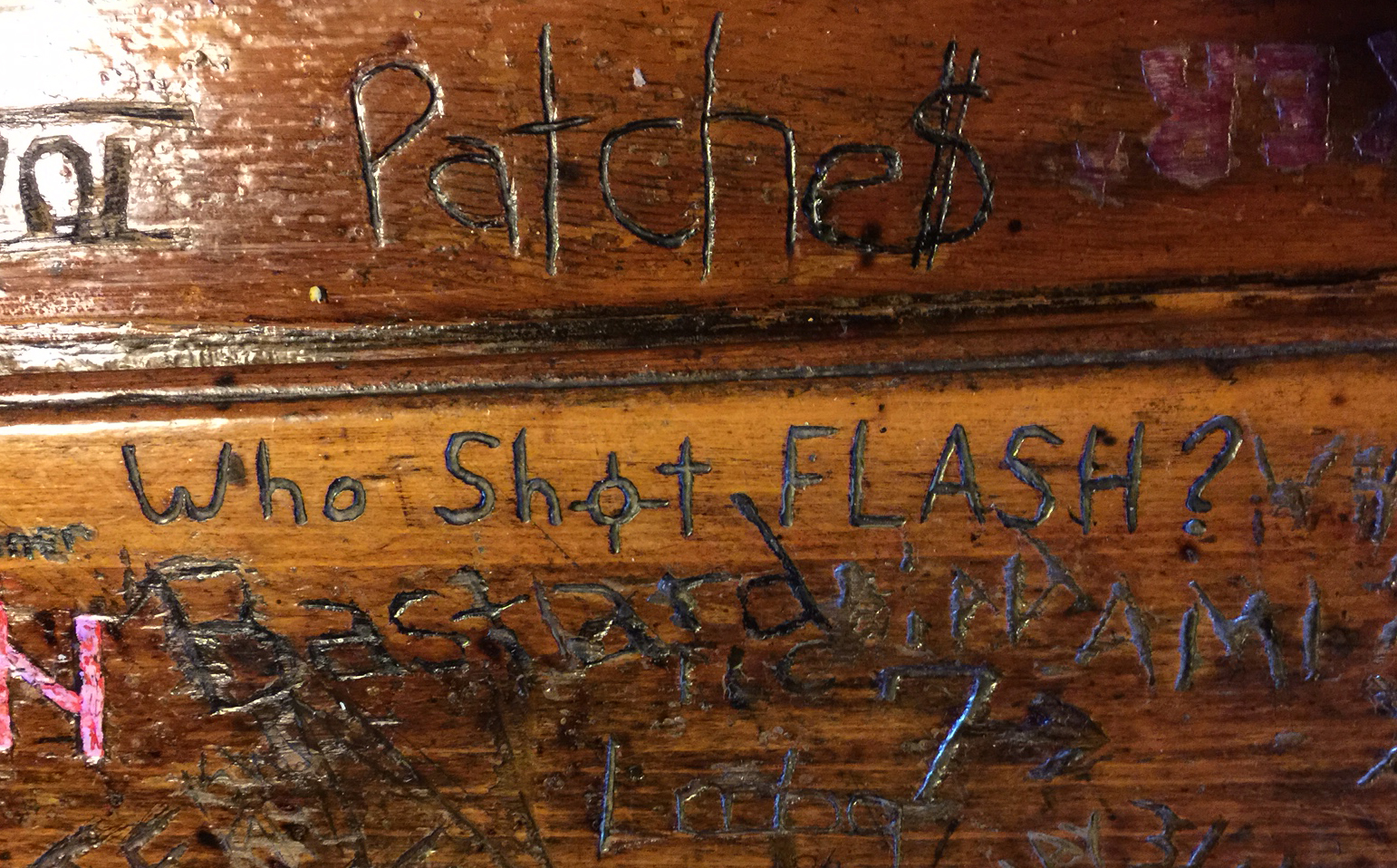 It was one dark night in 1998, that Flash Hopkins, an abrasive character and self-proclaimed mayor of Gerlach, walked out of the nearby Miners Club and into a hail of .38 slugs. Bleeding from two bullet wounds (one in the leg and the other to his posterior), he stumbled back into the bar and exclaimed; "Give me some whiskey, boys. I wanna die like a cowboy. I wanna die like Eli Wallach." He survived, resigned his claim of mayor, left town and stayed away for several years. Annette Silas, a bartender at the Black Rock Saloon, was later arrested for the shooting. (Whatever you do, Don't mess with the bartender.) This tale has been retold around burn barrels along with this admonishment: "Don't go fishing in Lake Lahontan without a Annette."